June 3rd, 2004 | E3 | Feature


E3 2004 Photo Album
We putzed around for a while, but finally we've got all your favourite pics of the colourful Crunk bunch!! TOQUE US LONG ENOUGH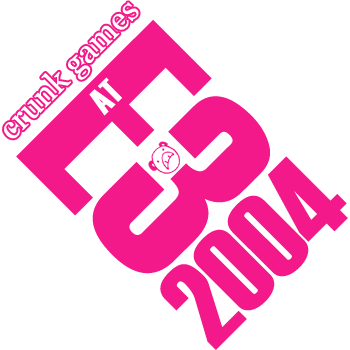 The 2004 E3 was a big deal not just for the game industry, but for us as well. Aside from seeing the hot new portables and the awesome sequels, 2004 was our first E3 with just the three of us, and among other things it introduced such bombshells as a glassless Alex as well as a short-haired Joel. Heavy stuff indeed; it's like watching the very fabric of reality turn into dust and sift through your fingers.
Still, among all the insane surprises, we managed to make it back in one piece. And we documented it all, just for you.
| | |
| --- | --- |
| | Sony and Nintendo's press conferences, plus one picture of the Walt Disney Concert Hall because we pussied out during Dear Friends. |
| | New games! A couple of old games! PSP! DS! No playable Hamtaro what the fuck?! |
| | New to Crunk Games? Well hi, glad to see you. By the way, we're attention whores. |
Page Nav: Next &raquo
Crunk Games is a game site about nothing. Read more anyway »
Feed


Editorial
Review
Preview
Profile
Feature
Other
E3

Game Index
(Alpha by title)
Dreamcast
Game Boy
GB Advance
Master System
Nintendo DS
Nintendo GameCube
PlayStation 2
PlayStation 3
PS1
PSP
Sega CD
Sega Saturn
Xbox

Archives
2011
2010
2009
2007
2006
2005
2004
2003

5 Random Links
Computer Hist. Museum
Famicom Database
GameSetWatch
Howard & Nester
Gas Coin Co.